2 Dudes and a Prius…Day 2
Road Trip Random Facts:  
Nebraska = Butterflies
Eric Hearts Iowa
Day 1 was a long day, but we achieved our goal.  Denver.  The Mile High City. Home of Tim Tebow Peyton Manning, and a highly delicious hot dog empire known as Biker Jim's.  We woke up early, got our continental breakfast, and hit the road.

This was the part of the journey that we knew we were going to dread.  Aside from our scheduled DDD stop in Omaha, we knew we were gonna see a whole lot of nothing.  And we were right.

(BTW, Arbor Day is cool and all, but is Nebraska the best ambassador for this holiday that revolves around trees?  Pretty sure those trees behind the sign are the only ones in the entire state.)

Field…butterfly…field…field….butterfly…butterfly….butterfly…cow….lake….field..field…. butterfly…Omaha. Thank goodness.  And as a side note, Eric's new name is butterfly killer, at no fault of his own.  The prettiest part of this leg of the trip was all the beautiful butterflies flying around.  Too bad the majority of them ended up on our windshield or wedged in the grill.  Anyways…Omaha and California Tacos.

Yep, California Tacos and More in Omaha, NE.  Who woulda thought?  This place was a little out of the way, but considering the monotony of this part of the trip, and the stench of old Arby's in the car, neither of us cared about adding an extra hour on the drive so we could have a little bit of scenery and some good food.      

If we're voting, which we are, California Tacos turned out to be my favorite DDD stop on the entire trip.  (Aside from the fact they don't use ChowNow…yet.  If anyone from California Tacos sees this, click here.)  Not my favorite meal, mind you, just my favorite DDD stop.  (My favorite meal was at Lou Malnati's in Chicago, just FYI)  This place is a fun, divey, college hangout and the food did not disappoint.  It's basically what you think it is, tacos, but not sure why they are "California" tacos as they were basically just tacos wrapped in dough and deep fried.  The outcome was a crispy, puffy, yummy taco that got 2 thumbs up from the ChowNow road crew.  
  And there was a toppings bar you could add whatever goodies you like.  And you know those juice dispensers that typically hold lemonade or fruit punch?  There was one of those that was filled with 2 kinds of homemade salsa. Double thumbs up!  It was good, but hey, I have yet to come across anything fried that isn't good.  Wait, I take that back.  Okra.  People love that stuff but it just tastes like pure oil to me.  Sorry anyone from Texas reading this.  

After enjoying our delicious meal, it was back on the road.  We were obviously less than psyched, but we had some miles to make up and there was no more screwing around.  Wait…Beef Jerky Outlet!  Ok, this really is the last stop.

About 15 hours in and just a couple hours outside of our Day 2 d.estination of Chicago, we find ourselves in the coolest storm either of us had ever witnessed.  (Only to find out a day later these things are as common as butterflies to Nebraska)  Crazy clouds, and even crazier lightning was putting on a show for us as we drove smack through the middle of it towards Chicago.  We were mesmerized and entertained, even though a Prius car rally would've been entertaining at that point, but it really was a beautiful display of Mother Nature at her finest.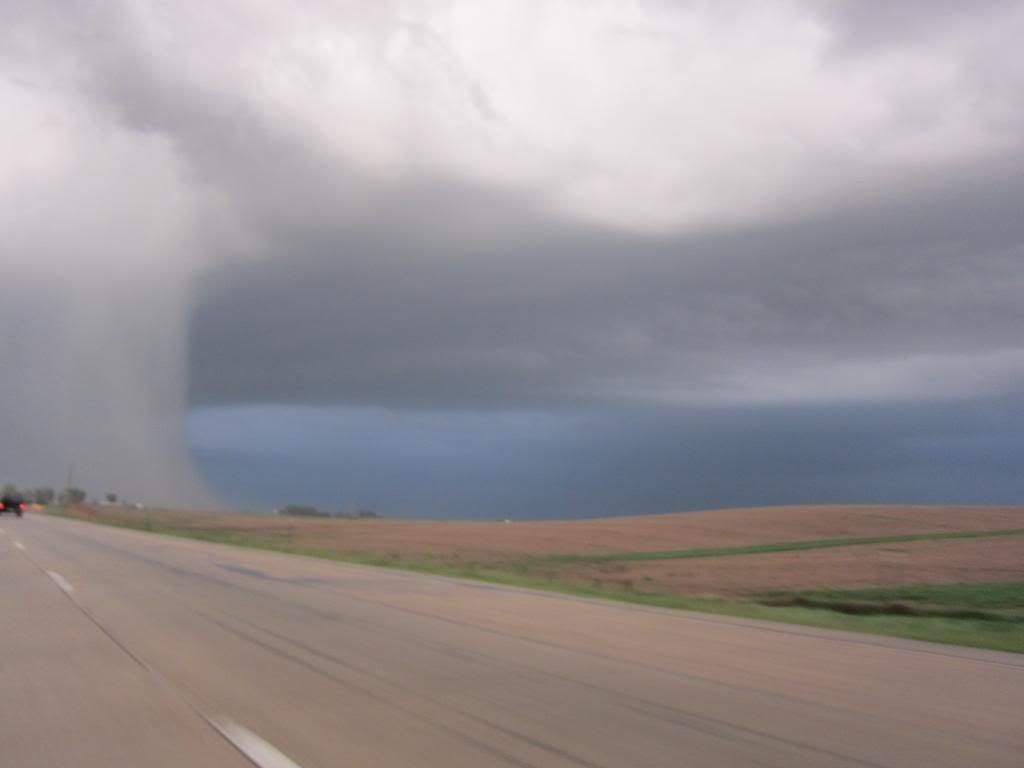 It was at this point where I went on to make the worst decision of the trip, which was to take the toll road into Chicago rather than the interstate, as it appeared it would save us around 30 minutes drive time.  

So aren't toll roads supposed to make your trip easier/quicker?  Seriously, isn't that what you pay for?  Cause apparently in Chicago the toll road means pay us and we'll make your drive suck more than it already does.  The non-stop construction probably added another 30 minutes to an hour on to our trip, but we did finally make it.  

We snuck in the back door at my sister's house, as it was around 1am, where she promised to have pizza, blankets and beer waiting for us.  Snooped around in the kitchen, in the oven, in the fridge…no pizza, no beer.  Oh well, we're too tired to care right now, let's just get some shuteye.  Oh look, 1 blanket.  Thanks sis.  But being the nice guy I am, I tossed it to Eric and went down to the basement to rummage up another one.  Nothing.  Ended up finding a tablecloth and Zinny, the house dog, and figured I'd be warm enough.  At least the air mattress worked.

We woke up to a freezing cold room, myself covered in a table cloth, and Eric wearing 3 more layers of clothes than when we went to bed.  The blanket I so generously gave to him sitting folded on the coffee table.  What the…?  My sister comes down with my nephew and we commence piling toys on Eric until he wakes up.  It's about 6am.  She laughs at us and continues to point out the closet full of blankets about a foot away from our heads, and then pulls the cold pizza out of the fridge that I somehow overlooked.  Son of a…

Who cares, we made it.  2 days and 32 hours later.  The NRA Show.  Let's party.
2 Dudes and a Prius…Day 1
Foreword -

So my goal was to give our loyal blog following, all 3 of you, a day by day, live journal of our journey to the 2012 NRA Show.  Things started off great as I actually wrote the first post at a gas station in Vegas.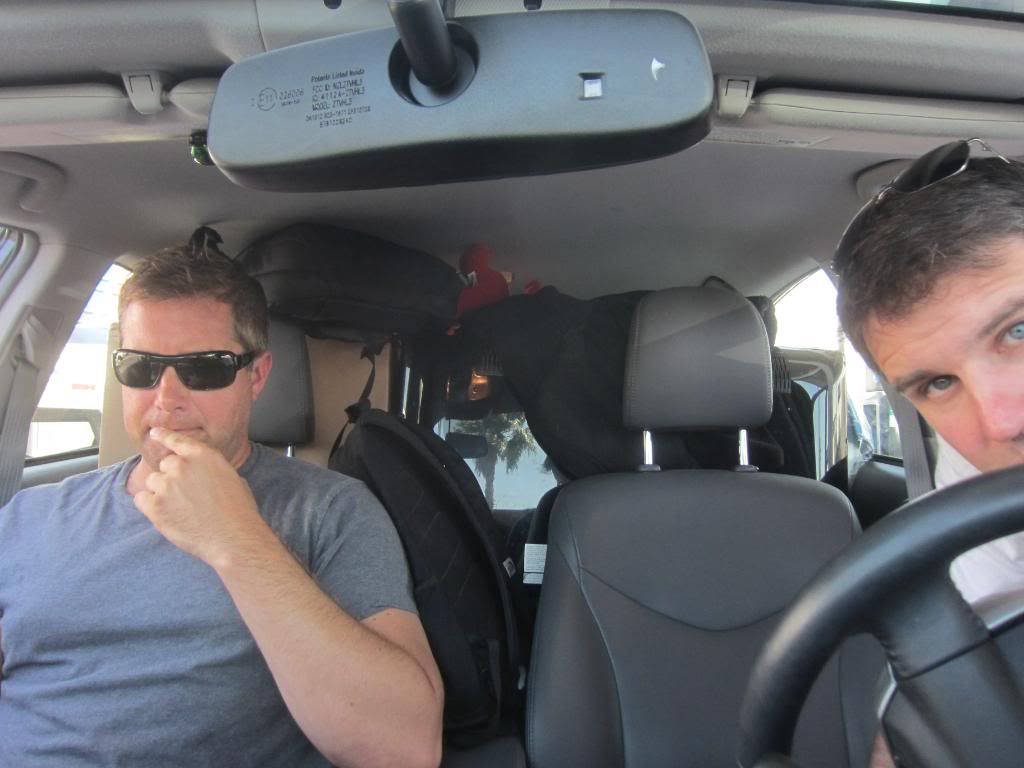 After that the wheels fell off, (no, not the Prius wheels, even though I'm pretty sure they're compostable/disposable), the real-time blog train wheels.    

Anyhoo, I hope you'll forgive me for being so late on the first installment.  We're not even fully recovered 3 weeks after arriving back home, but one thing's for sure, it was all worth it.  ChowNow staked a flag, made our mark on the restaurant technology scene, and are very excited for what the future holds.

Road Trip Random Fact, courtesy of Steve Martin:  
Did you know the band is called "Eagles", not "The Eagles"?

Day 1 -

Road trips rule.  And I'm not just saying that because I hate flying.  The open road, fresh air (conditioning), non stop music, good company, 14 hour long audio books of America's greatest speeches…
…what's not to like?! 
So how do you make a road trip even better?  Download the Diners, Drive-in's and Dive's app and hit up the most gluttonous, artery hardening, delicious food joints along your path.
This game started in Vegas at the Four Kegs Sports Pub where we had their world famous stromboli.  I wasn't even sure what a stromboli was, but it was the special of the day and, I'm pretty sure is what Guy Fieri featured on their episode.  Plus it came with a side of dipping marinara, so we couldn't lose.  (Anyone from the Midwest understands this.  It's all about gravy people, or anything resembling gravy, or something that serves a gravy-like purpose.)

The stromboli was awesome, pretty much just a pizza folded into some dough to resemble more of a calzone, but it was delicious.  Most things lathered in cheese are.  The highlight of lunch, for Eric at least, was his creation of a game I would grow to loathe.  This lunch was the birth of him sneaking pics of me as I'm stuffing my face.  
I know…creepy.  And it only gets worse. 


All in all it was a good stop that ended with us putting our mark on the old 4 Kegs wall,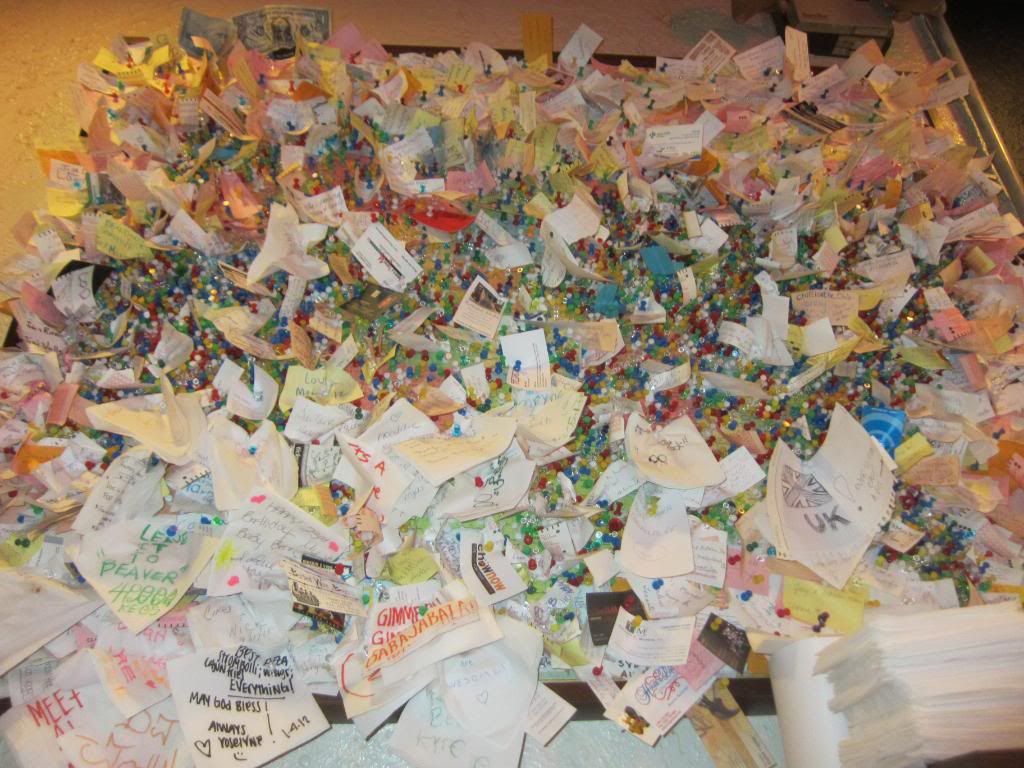 and heading on our way.  We got a few sneers on the way out, as any 2 dudes in a Prius would, also because I think everyone else was drunk, (it was noon on Wednesday, why wouldn't they be), and losing all their money at the video poker machines.  Regardless, we made our way to the Prius, fired up the battery, and silently rolled on to the freeway.       

The next several hours consisted of some beautiful scenery, but not a lot of excitement, as they day started to wear on us and energy levels were low.  Not to say we weren't still having a great time, we just need some sleep after eating 4lbs. of bread and cheese.  

Next stop…Denver.

2 Dudes and a Prius - ChowNow Road Trips to the 2012 NRA Show
The life of a startup is not a glamorous one, but it sure is fun.  While we may not be flying first class and staying in fancy hotels, we are sure to make the most of our time and enjoy every step along the way, as we strive to make ChowNow the best company it can possibly be. 

With this in mind, we embark on an epic journey for the 2012 National Restaurant Association Show, May 5-8 in Chicago, IL.  But flying is too easy.  We're driving.  That's right, 2 full size men, a lot of tradeshow gear, and Eric's bad taste in music.  All packed on top of a 43 horsepower, 87mpg hybrid beast that is known as Prius.

Mind you, I have my concerns on what is about to take place.  Will we make it on time?  Is everything going to fit?  Will Eric ever stop singing?  Valid concerns.  But we are men on a mission, and failure is not an option.

"Whatever it takes" is a common theme among startups, and we're no different.  We're going to save a nice chunk of change by driving ourselves, and all our gear over there, but that's only part of it.  Building these memories with my good buddy and colleague will give us many good times to reminisce about once we take ChowNow to the next level.  

Stay tuned, day 1 starts right now…
Is Los Angeles the New Tech Startup Capital?
For years Silicon Valley has been considered Techy Heaven.  Many amazing companies were born and raised there and it was truly the Capital of Tech Startups.
Times are changing and  L.A. is making it's mark on the Tech scene.  With the emergence of several local incubators/accelerators, such as LaunchPad LA, companies like ChowNow are encouraged and rewarded for staying and growing in Los Angeles.
Here's a great article in Forbes by Tara Tiger Brown discussing why Los Angeles is set to become the next hot spot in the Tech World.
New Digs at LaunchPad LA
It's an exciting time for ChowNow as we have moved offices from our humble beginnings on Abbot Kinney to powerhouse LaunchPad LA headquarters, right down the road in Santa Monica.  The move marks a milestone in our growth, as joining forces with LaunchPad LA is a dream opportunity that any startup is grateful to have. 
LaunchPad LA is an accelerator and mentorship organization founded in 2009 by Mark Suster, with its goal being to help young, talented startup entrepreneurs get funded, build relationships, and grow, while remaining in Southern California.  It allows early stage companies, such as ChowNow, to gain insight and knowledge from some of the best business minds around.  Top VC's in Southern California, experienced CEO's, and a select group of service providers will all be part of the LaunchPad LA program.
ChowNow joins 9 other startups in this venture and the chatter and buzz have been lighting up the office from day 1.  To be in an environment like this is both motivational and inspiring.  Being able to engage with other top entrepreneurs is an amazing tool to have in itself.  Throw in the fact that we all have access to some of the most successful and brightest business minds in the country to help guide us along the way is something that is a once in a lifetime opportunity that nobody around here is going to take for granted.
For more information check out Mark Suster's TechCrunch article about LaunchPad LA.
Welcome 2012, We've Been Expecting You…
All of us at ChowNow would like to wish our friends, family, restaurant partners, Facebook Fans and Twitter Followers a very Happy Holidays.  This has been a great year and things are only going to get better.  A big Thank You to everyone for being with us and making us what we are today.  Looking forward to what the New Year brings! 
Wishing everyone health, happiness and success!
Cheers,
ChowNow
The value of social media in relation to online food ordering for your restaurant, or any business for that matter, is more important than ever.  This is a really great video that we wanted to share that really puts things in perspective.  If you haven't adopted a solid social media strategy yet, take the time NOW to map out and plan what you're going to do to step up your social media game.
Enjoy,
ChowNow
Claiming Your Vanity URL for Your Restaurant's Facebook Page
When you create a Facebook account for your restaurant, you are assigned some random ID such as this, facebook.com/pages/My-Business-Name/909932628188.  This used to be no big deal and probably not something you, as a business owner, would even think twice about.  But nowadays it's imperative to keep up with the ever changing digital world in order to stay on top of the competition.  Here are 3 reasons you need to claim your custom Facebook URL, ASAP!
1.  Marketing - You should be doing as much marketing as possible.  If you ever need to use your FB URL on printed advertising or online posts, which you often should, you don't want it to say, facebook.com/pages/My-Business-Name/909932628188.  It just doesn't look right and nobody is going to take the time to write down or copy that lengthy behemoth.  Changing it to facebook.com/MyBusinessName is much easier on the eyes and something that will not only help your branding efforts, but make it much easier for people to refer others to your page.
2.  Competition - Chances are you aren't the only person out there who has thought of "My Business Name" as your company name.  And as you probably have no shot at claiming the domain, MyBusinessName.com, you may still have a shot at claiming it on Facebook as, facebook.com/MyBusinessName.  Do it…do it.
3.  Search Engine Optimization - The search engines, like Google, place a high value on URL's when determining rankings.  If your URL isn't exact match, or very similar, for what you'd like to be found for, (such as My Business Name), you aren't going to rank very well.  By claiming that exact match URL you have a great shot at ranking highly for your restaurant's Facebook page.
Now that you understand why it's so necessary to claim a custom URL, here is how you do it:
*IMPORTANT:  You only get to make this change once so watch for typos and make sure you're happy with it before you save the change.*
1) Login to Facebook under your administrator account for your business page.
2) Go to your Facebook business page.  (Make sure you are signed in as your business page and not your personal profile!)
3) Click "Edit Page" at the top right.
4) Click "Basic Information" on the left sidebar.
5) Change the username to your liking.  Again, be careful, you only get to make this change once so watch for typos and make sure you're happy with it before you save the change.
After you change the username, you should be able to see the new Facebook url in your browser's address bar like this:  facebook.com/MyBusinessName.
Here's a few more tips for changing your Facebook username and getting the most benefit from it:
1) Make it short.
2) Make it memorable.
3) It should match the common name of your business or be very similar.
4) Capitalize the first letter of each word to make it more readable.
5) No spaces or special characters. Only a-z and 0-9 are allowed.
6) Double and triple check for errors before you save your new FB business page username because, again, YOU ONLY GET ONE SHOT.
Bonus Tip: Try to match your FB restaurant username to your Twitter restaurant username, your YouTube restaurant username and any other social media usernames. Consistency helps with branding.  Also, if the name you want is already taken, just choose the next best option and something that still closely represents your brand.  In our case, if facebook.com/MyBusinessName was taken, we could try /MyBusinessNameInc or /MyBusinessNameLosAngeles.  The goal is to have the name in there somewhere and have it match as closely as possible to the actual name.
Good luck!